Fall Clean-Up in the Oxbow
Please join us for our fall cleaning in the Oxbow. We will pick up trash and/or attack invasives.
October 29, 2016
9am-noon
Pizza afterwards!!!!!
......................................................
Get your very own Oxbow T-SHirt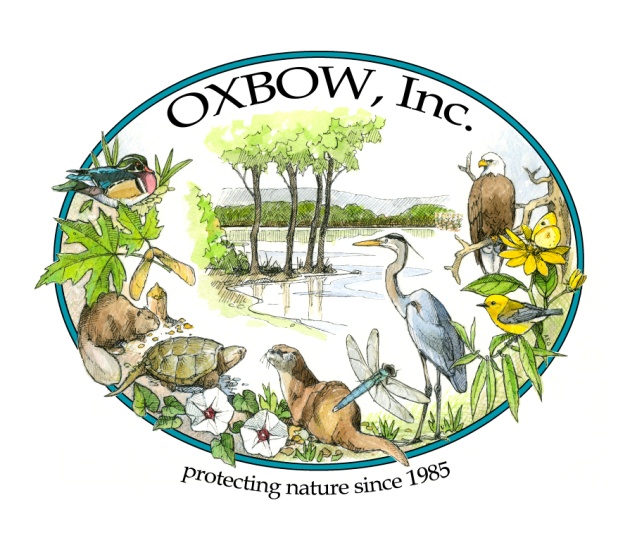 ......................................................
AmazonSmile
Oxbow has signed up with AmazonSmile. Anyone who uses it, and designates Oxbow of Indiana as the recipient organization, will have 0.5% of their eligible purchases come to us. Just click on this link to help us out: http://smile.amazon.com/ch/31-1390071.
............................................
Click on the Image Below for a Local Map of the Oxbow
Please email comments and suggestions to Kani Meyer at kaniau@yahoo.com

Programs
Tuesday, October 11, 7:30pm
Oxbow, Inc. Office
301 Walnut ST., Lawrenceburg, IN
Jack Berninger – Bird Brains – "BIRD BRAIN THE GENIUS OF BIRDS" - latest research on how understanding the functioning of their neural pathways may give us incites into human learning and malfunctioning afflictions.
*******************************
Don't Miss This Special Exhibit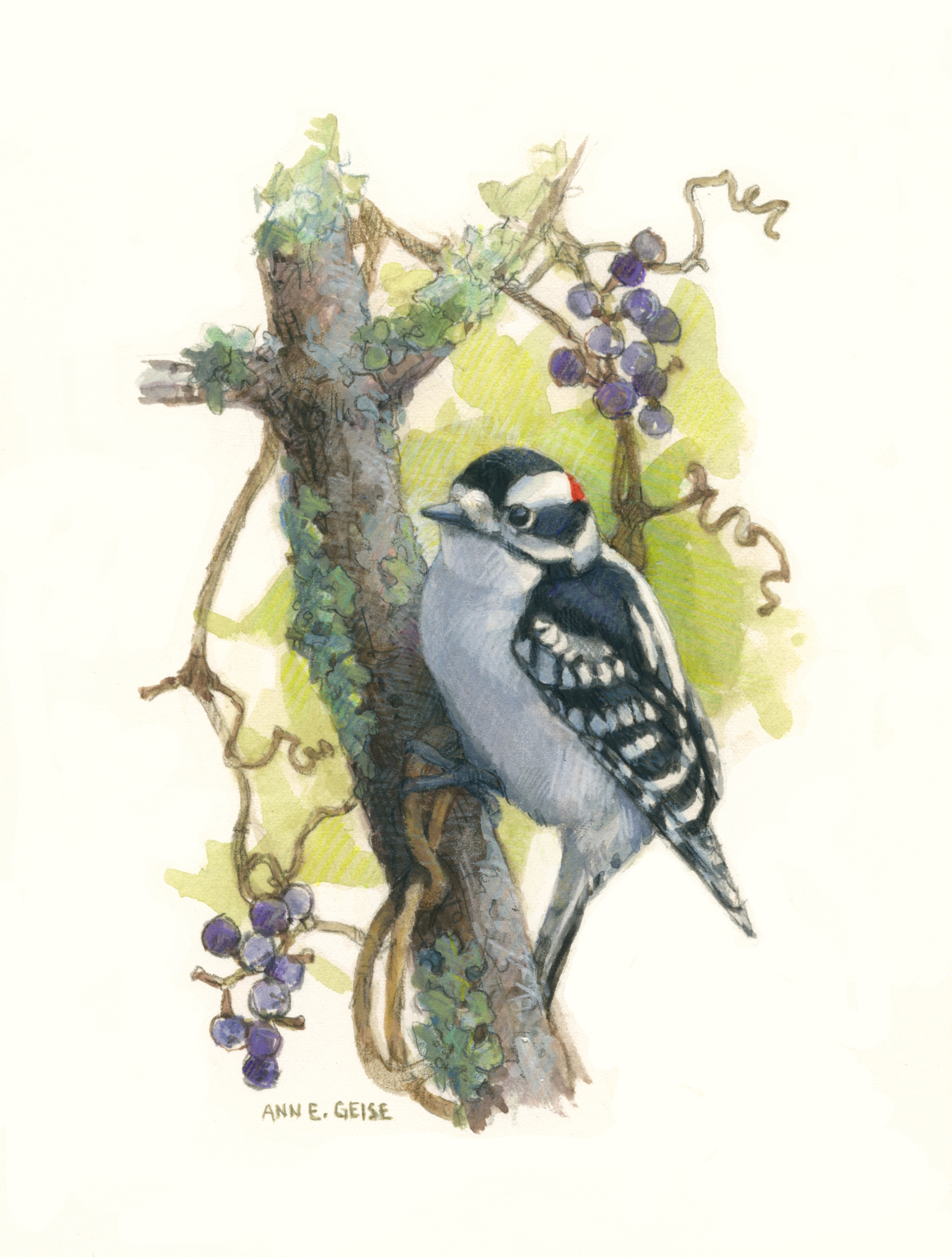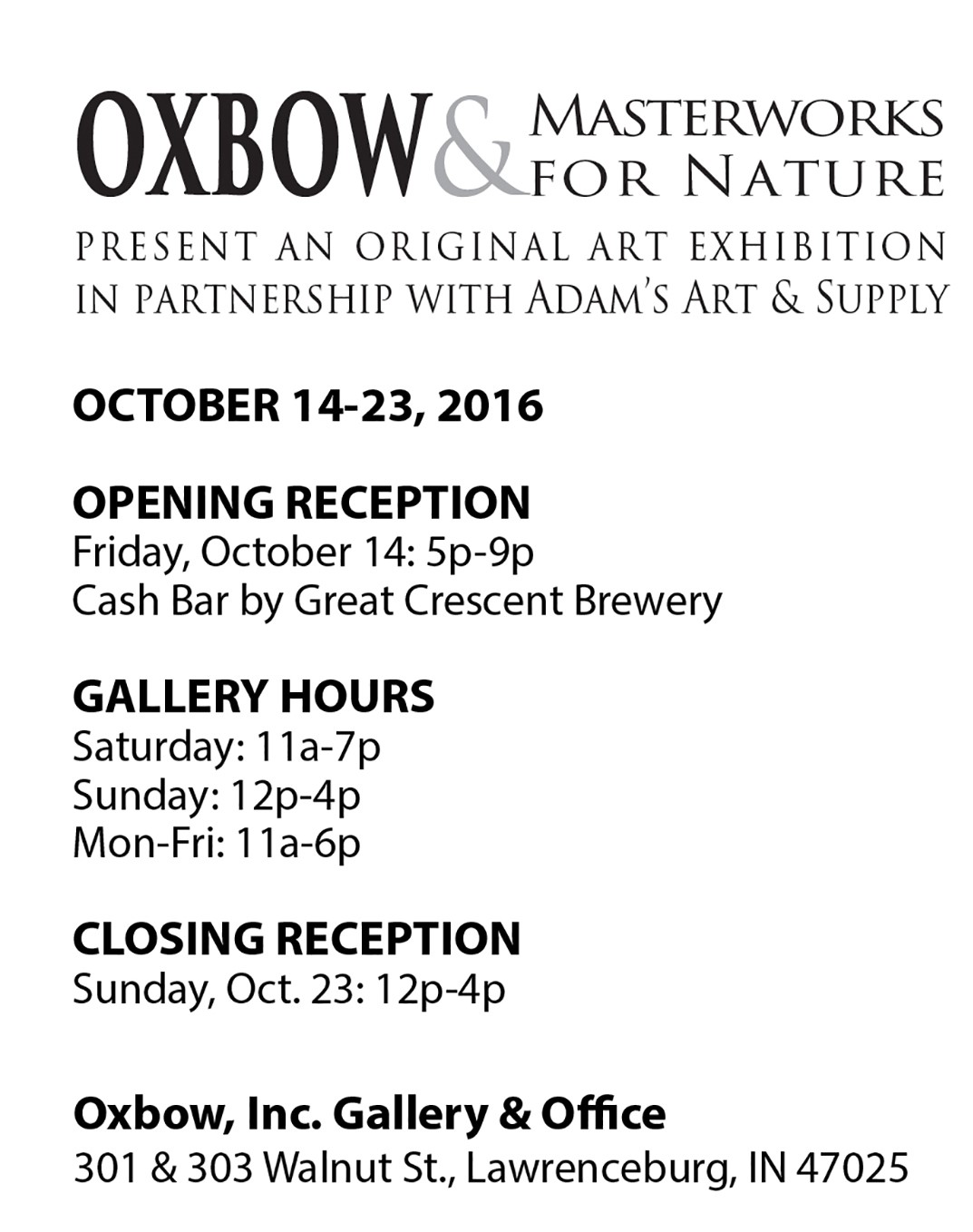 Field Trips
Warbler & Shorebird Migration
Date & Time: Saturday, September 17, 2016, 8:30 a.m.
Where: Meet in the upper Oxbow parking lot at the main entrance to the Oxbow.
Leader: Steve Pelikan, (513) 681-2574, pelican@math.uc.edu
The theme of this field trip will be the fall migration of shorebirds (sandpipers and plovers) and song birds, particularly warblers. Migration for these species will be near peak on this date and the Oxbow area is a great place to find both of these groups of birds as well as a great diversity of other species. Other species that could also be seen include several species of raptors including Osprey and Bald Eagle, a scattering of waterfowl, terns, herons, egrets and more.
Fall shorebird migration in our area is quite protracted. The first few migrant shorebirds arrive in mid-July and a few lingering birds remain well into November. September however represents the peak of fall shorebird migration. Shorebirds rely on shallow water conditions (exposed shorelines, sand bars and mudflats) so the numbers stopping over may vary year to year depending on local conditions. On the other hand warblers and other neo-tropical migrant songbirds are fairly wide-spread during the fall. Their numbers peak in September and can be found anywhere in the Oxbow area. Shawnee Lookout is particularly good.
Our trip leader, Steve Pelikan, a board member and long-time Oxbow Inc. advocate, is also an expert birder and skilled naturalist. Steve knows the birds and the Oxbow area extremely well so we expect to have a great day. Steve's exact plan will be revealed the day of the trip, but he does expect to visit a number of locations in the Oxbow area to maximize our finding a diversity of species.
This trip will probably end by noon unless, as Steve put it, "the birding is great". And it might be. Expect to drive to a few different spots in the Oxbow area interspersed with some light to moderate walking in between. While the focus of this trip is birds, Steve will not ignore the other nature we will see in the Oxbow. Binoculars are necessary if you expect to see birds. There are no restrooms in the Oxbow but several are available at nearby businesses and at Shawnee Lookout Park. A Hamilton County Park Motor Vehicle Permit is r
required ($3.00 daily, $10.00 annual) for each vehicle if visiting Shawnee Lookout.
The Oxbow area is truly a great place to find birds, so why not come out and join Steve for what should be a pleasant morning of birding during the peak of fall migration. If you have any questions don't hesitate to contact Steve.