Get your very own Oxbow T-SHirt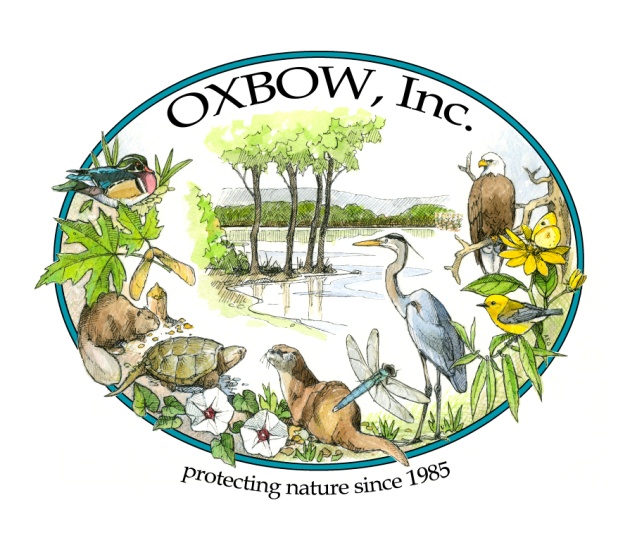 ......................................................
AmazonSmile
Oxbow has signed up with AmazonSmile. Anyone who uses it, and designates Oxbow of Indiana as the recipient organization, will have 0.5% of their eligible purchases come to us. Just click on this link to help us out: http://smile.amazon.com/ch/31-1390071.
............................................
Click on the Image Below for a Local Map of the Oxbow
Please email comments and suggestions to Kani Meyer at kaniau@yahoo.com

Programs
Tuesday, August 8, 2017, 7:30 PM
Kris Medic – Trees in the floodplain
Kris Medic is the Agriculture/Natural Resources and Community Development Educator for Purdue Extension Bartholomew County. She is a Board-Certified Master Arborist, past president of the Indiana Arborist Association, and an adopted Hoosier. Kris also once solved a UFO sighting as part of her Extension work. She will tell that story, but also talk about trees, especially those associated with flood plains, both native and invasive tree species. With our newly purchased, heavily disturbed land, we need advice about how to restore it to health with floodplain-tolerant trees and other perennials.
Field Trips
Early Fall Migrant Shorebirds & Waders
Friday Evening, August 25, 2017, *6:00 PM
Meet in the upper Oxbow parking lot at the main entrance to the Oxbow.
Co-Leader: Jack Stenger, (513) 503-3389, jackstenger@gmail.com
Co-Leader: Jay Stenger, (513) 522-8147, jaystenger@cinci.rr.com
*Note that this is an evening field trip.
Several years ago, in an attempt to beat the heat of the August "dog days", we began scheduling our August field trips in the evening. For several reasons this trip has become quite popular. The focus of this trip will be birds, specifically early fall migrants through the Oxbow. That's right, I did say fall. While the calendar and temperature tells us it is still late summer, the southbound fall migration of shorebirds (sandpipers & plovers), long-legged waders (herons & egrets) and several other species begins quite early and will be well under way by this date. So come out and join our trip leaders, son and father team Jack Stenger and Jay Stenger, for what should be a pleasant summer evening in the Oxbow area. These two guys are skilled and expert birders who know the area inside and out.
Shorebirds (sandpipers and plovers) need exposed mudflats and shorelines where they forage for their invertebrate food. During most years the Oxbow provides good to great habitat for them. The nearby Great Miami River usually has exposed sand bars at this season as well. In addition to several species of shorebirds, we expect that we will find numerous Great Egrets and herons including Great Blue, Green and Black-crowned Night-Herons. This is also a great time of year to find an unusual or rare species such as Little Blue Heron and Snowy Egret (but not guaranteed). Purple Martins and other migrating swallows' can "stage" in large numbers in the Oxbow during this month and terns, Osprey, Bald Eagle (year round) and other early migrants are possible. With most of our summer residents still present as well, we should find a good diversity throughout the evening.
Jack and Jay plan to hit several spots in and around the Oxbow including Lost Bridge over the Great Miami. The trip will end around dusk (9:00 PM?). It will likely be hot at this season, even at this time of day, so we suggest bringing sunscreen, insect repellant and water to make your visit more comfortable. Feel free to contact Jack or Jay if you have any questions.