**************************
Cleanup in the Main Oxbow Property
November 18, 2017
9am - noon
Pizza to follow
Bring chain saws and trucks
***********************
Get your very own Oxbow T-Shirt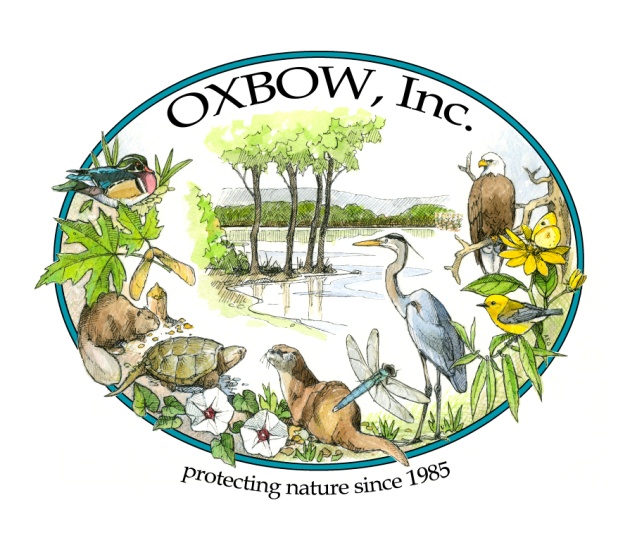 ......................................................
AmazonSmile
Oxbow has signed up with AmazonSmile. Anyone who uses it, and designates Oxbow of Indiana as the recipient organization, will have 0.5% of their eligible purchases come to us. Just click on this link to help us out: http://smile.amazon.com/ch/31-1390071.
............................................
Click on the Image Below for a Local Map of the Oxbow
Please email comments and suggestions to Kani Meyer at kaniau@yahoo.com

Programs
Tuesday, November 14, 2017, 7:30 PM
Megan Philpott – From the Field to Test Tubes and Back Again
Megan Philpott's presentation, From the Field to Test Tubes and Back Again, is about mixing biotech and field techniques in plant conservation. Megan is a Ph.D. candidate in Biology at the University of Cincinnati and Cincinnati Zoo & Botanical Garden's Center for Conservation and Research of Endangered Wildlife (CREW). Her research is focused on using population genetic tools to better conserve threatened and endangered exceptional plants.
Field Trips
Fall Waterfowl Migration
Sunday, 11/5/17 at 8:00 a.m.
Where: Meet in the upper Oxbow parking lot at the main entrance to the Oxbow.
Leader: Gary Stegner, (812) 667-6433, garyandsally@hotmail.com
Late autumn is a beautiful time of the year and the subtle hues of the landscape interspersed with brilliant fall colors offer up a stark beauty. It will be against this backdrop that our trip leader Gary Stegner will lead this morning visit to the Oxbow. Gary is a long time Oxbow advocate and member and is an experienced birder and naturalist. He is also a frequent visitor to the Oxbow and knows the area well.
When birders and naturalists think of the Oxbow during November the first thing that usually comes to mind is waterfowl. The peak of fall waterfowl migration occurs in our region during November and the Oxbow offers a great refuge for them.
While waterfowl will be the primary focus of this trip, Gary will not ignore the many other species that can be found here at this season. Bald Eagles are expected and other hawks will be seen. There is even a good chance we will see migrating Sandhill Cranes. Late migrant and winter songbirds should also be abundant and the weedy fields and roadsides will abound with sparrows of many species. We can expect to find a diverse number of species as Gary plans to visit several spots in the Oxbow area including a probable stop at Lost Bridge over the Great Miami River. So why not come out and join Gary for what should be a beautiful autumnal visit to the Oxbow.
Remember, the Oxbow can be muddy in many places this time of the year and November weather can be cold and wet so prepare accordingly. If you have any questions feel free to contact Gary.