Clean Up in the Oxbow
Saturday, April 29,
2017
9am – noon
Pizza at LaRosa's after
Opportunities to pick up trash or cut/pull invasive plants.
Trucks and chainsaws needed
Any questions email kaniau@yahoo.com
......................................
Get Ready for
Birdathon 2017
May 12-13, 2017
...........................................
Get your very own Oxbow T-SHirt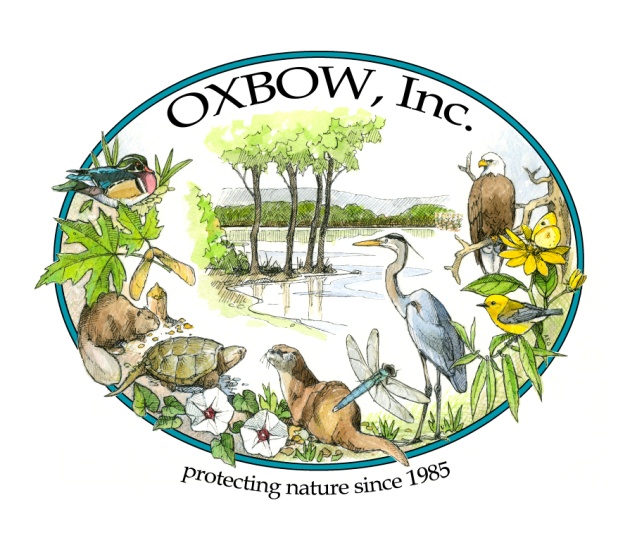 ......................................................
AmazonSmile
Oxbow has signed up with AmazonSmile. Anyone who uses it, and designates Oxbow of Indiana as the recipient organization, will have 0.5% of their eligible purchases come to us. Just click on this link to help us out: http://smile.amazon.com/ch/31-1390071.
............................................
Click on the Image Below for a Local Map of the Oxbow
Please email comments and suggestions to Kani Meyer at kaniau@yahoo.com

Programs
Tuesday, March 14 , 2017, 7:30 p.m.
Oxbow, Inc. Office
301 Walnut ST., Lawrenceburg, IN
The Skeletons in Cincinnati's Closets: The Bones of Music Hall and Washington Park. Dr. Elizabeth (Beth) Murray will discuss the Commingled human skeletal remains discovered beneath Cincinnati's Music Hall in 1988 have provided a biological snapshot of the lives and deaths of some of Cincinnati's early citizens. Excavations at Washington Park in 2010 exhumed other individuals who were contemporaries of those once buried beneath Music Hall, but who likely occupied a different social status. This presentation will compare Dr. Murray's analyses of the two skeletal populations, as well as discuss ongoing research involving the remains.
Dr. Murray is a Professor of Biology at Mount St. Joseph University, and is one of only approximately 75 anthropologists currently certified by the American Board of Forensic Anthropology (ABFA). Dr. Murray has participated in hundreds of forensic investigations since 1986. She is a Fellow in the American Academy of Forensic Sciences, and is on the Greater Cincinnati/Northern Kentucky International Airport's Disaster Committee. Since 2009, Dr. Murray has served as a consultant to the National Missing and Unidentified Persons System (NamUs). Her doctoral work at UC involved the analysis of several hundred pounds of human bone discovered in 1988 entombed beneath Cincinnati's Music Hall. More recently she analyzed the remains of additional early Cincinnatians interred beneath Washington Park. She has authored of several science books for grades 7-12.
Field Trips
Early Spring Waterfowl Migration
Date: Saturday, February 25, 2017
Time: 8:00 A.M.
Meet: In the upper Oxbow parking lot at the main entrance to the Oxbow
Leader: Jack Stenger, (513) 503-3389, jackstenger@gmail.com
Early spring waterfowl migration should be in full swing by this date and they will be the primary focus of this trip. However a diverse number of other early spring migrants and seasonal species are expected and will also be seen. It's also a great time of year to find Bald Eagles and other raptors in the Oxbow. Our trip leader, Jack Stenger is a lifelong Oxbow Inc. advocate and is an expert birder and burgeoning naturalist. He has great bird finding abilities so expectations are high. Jack plans to move around to several spots in the Oxbow area depending on accessibility and water conditions as flooding is the norm in the Oxbow at this season.
So why not shake off your cabin fever and join Jack for what should be a productive morning of wildlife viewing in the Oxbow. Aside from seeing waterfowl and other birds, mud and cold weather is also guaranteed, so dress appropriately. This is a morning trip that should end before noon. Rest rooms are available nearby. Feel free to contact Jack if you have any questions regarding the trip.