Get Ready for
Birdathon 2017
May 12-13, 2017
...........................................
Get your very own Oxbow T-SHirt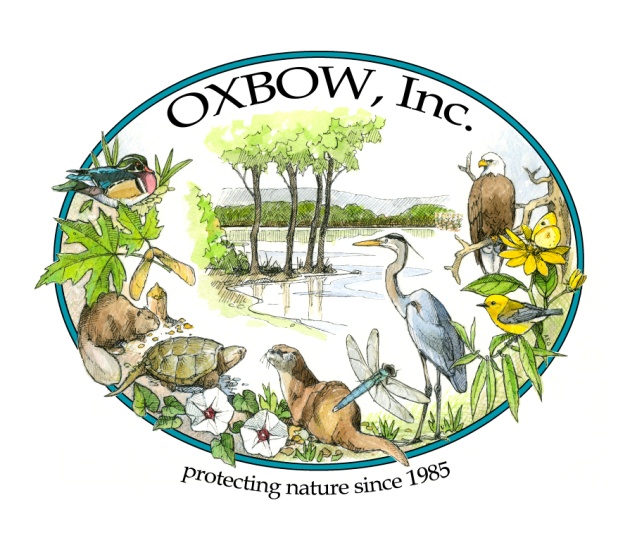 ......................................................
AmazonSmile
Oxbow has signed up with AmazonSmile. Anyone who uses it, and designates Oxbow of Indiana as the recipient organization, will have 0.5% of their eligible purchases come to us. Just click on this link to help us out: http://smile.amazon.com/ch/31-1390071.
............................................
Click on the Image Below for a Local Map of the Oxbow
Please email comments and suggestions to Kani Meyer at kaniau@yahoo.com

Programs
Tuesday, February 14, 2017, 7:30 p.m.
Oxbow, Inc. Office
301 Walnut ST., Lawrenceburg, IN
Total Eclipse of the Sun, Coming Soon! Dr. Mark Fischer of North College Hill, Ohio, is a Professor of Physics at Mount St. Joseph University where he teaches physics, forensics, and astronomy. His research has involved the physics of fungal spore launch mechanisms. His free time is filled with family, music (two bands), and geocaching - which you may know from a previous Oxbow presentation. This time around, Dr. Fischer will tell us about the upcoming total eclipse of the sun, as well as introducing the physics of eclipses, and presenting us with information about historic eclipses and how they were viewed and interpreted.
Field Trips
Early Spring Waterfowl Migration
Date: Saturday, February 25, 2017
Time: 8:00 A.M.
Meet: In the upper Oxbow parking lot at the main entrance to the Oxbow
Leader: Jack Stenger, (513) 503-3389, jackstenger@gmail.com
Early spring waterfowl migration should be in full swing by this date and they will be the primary focus of this trip. However a diverse number of other early spring migrants and seasonal species are expected and will also be seen. It's also a great time of year to find Bald Eagles and other raptors in the Oxbow. Our trip leader, Jack Stenger is a lifelong Oxbow Inc. advocate and is an expert birder and burgeoning naturalist. He has great bird finding abilities so expectations are high. Jack plans to move around to several spots in the Oxbow area depending on accessibility and water conditions as flooding is the norm in the Oxbow at this season.
So why not shake off your cabin fever and join Jack for what should be a productive morning of wildlife viewing in the Oxbow. Aside from seeing waterfowl and other birds, mud and cold weather is also guaranteed, so dress appropriately. This is a morning trip that should end before noon. Rest rooms are available nearby. Feel free to contact Jack if you have any questions regarding the trip.