Clean Up in the Oxbow
Saturday, April 29,
2017
9am – noon
Pizza at LaRosa's after
Opportunities to pick up trash or cut/pull invasive plants.
Trucks and chainsaws needed
Any questions email kaniau@yahoo.com
......................................
Get Ready for
Birdathon 2017
May 12-13, 2017
...........................................
Get your very own Oxbow T-SHirt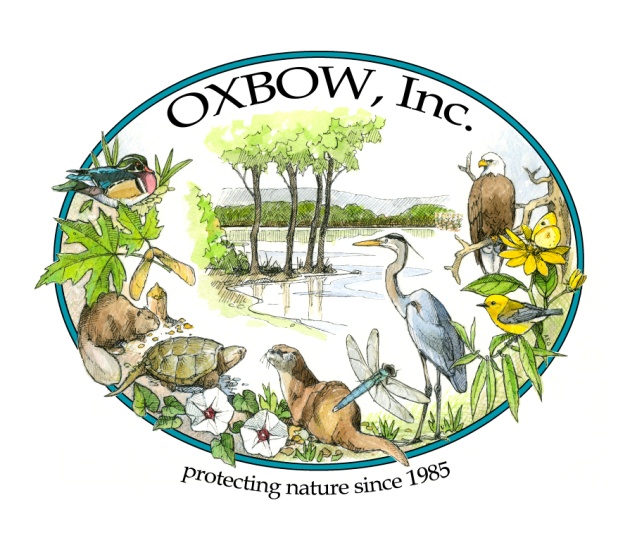 ......................................................
AmazonSmile
Oxbow has signed up with AmazonSmile. Anyone who uses it, and designates Oxbow of Indiana as the recipient organization, will have 0.5% of their eligible purchases come to us. Just click on this link to help us out: http://smile.amazon.com/ch/31-1390071.
............................................
Click on the Image Below for a Local Map of the Oxbow
Please email comments and suggestions to Kani Meyer at kaniau@yahoo.com

Programs
Tuesday, May 9, 2017, 7:30 p.m.
Oxbow, Inc. Office
301 Walnut ST., Lawrenceburg, IN
Community Gardens and Edible Forest Gardens
Forest Gardening: An Ecological Horticulture Strategy - Amy Stross: An edible forest garden is a food production strategy that mimics a woodland ecosystem. Protect and improve biodiversity while getting a productive yield! Learn about the history of this approach to food cultivation, how to set up a forest garden for yourself, and resources for further study. Amy Stross is the author of The Suburban Micro-Farm: Modern Solutions for Busy People, and specializes in permaculture gardening, writing, and education. Edible gardening is her second career. A former high school teacher with a Masters in Education, Amy worked as a professional edible landscaper and was the administrator for community supported agriculture projects (CSAs) before transforming her 1/10-acre suburban yard into a productive landscape. She went on to start a community food forest at Mount St. Joe University with residents of Delhi Township. Amy has reached hundreds of thousands of people with her adventures and expertise on her website, TenthAcreFarm.com. She lives in the suburbs of Cincinnati with her husband and farm cat. Their current adventures include transforming their 3.3-acre suburban property into an edible and biodiverse micro-farm.
Field Trips
Peak Spring Migration
Saturday, May, 21 2017, 8:00 AM
Meet: at the upper Oxbow parking lot at the main entrance to the Oxbow
Leader: Dave Helm, (513) 403-4519, helmmd@icloud.com
May is without a doubt the best overall month for birding in our region and probably the rest of the USA as well. It is during this month that the greatest diversity and the most species are present. During May, spring migration peaks for many species and summer residents have returned in force. And the Oxbow and lower Great Miami River valley is a great place to find them. So birds will certainly be the focus of this morning trip.
Dave Helm, our trip leader, is a skilled veteran birder and naturalist and long-time Oxbow advocate. Dave has always been a regular visitor to the Oxbow and knows the area well. Dave's experience will certainly come in handy as birds should be abundant and vocal on this date.
We should see numbers of raptors (eagles, osprey, and hawks), herons and egrets, terns (possible), shorebirds, and migrant and resident warblers and many other songbirds over the course of the morning. Dave plans to bird around Oxbow Lake, but he will likely spend a good portion of the morning at Lost Bridge and the Shawnee Lookout side of the river to take full advantage of the diverse bird life moving through the area around this date.
Much of this trip will be on foot, but walking will be easy to moderate and at a birders pace. As always, be prepared for muddy spots, especially if conditions have been wet. For your comfort you may want to consider bringing water, sun screen and insect repellent. It goes without saying that binoculars are necessary for seeing small birds. A motor vehicle permit ($10 annual, $3 daily) is required at Shawnee Lookout (Great Parks). Restrooms are available at Shawnee Lookout or nearby businesses. Feel free to contact Dave if you have any questions.