Get your very own Oxbow T-SHirt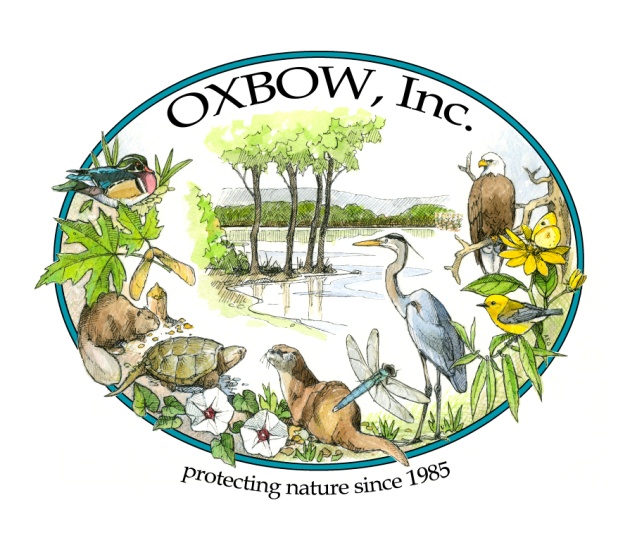 ......................................................
AmazonSmile
Oxbow has signed up with AmazonSmile. Anyone who uses it, and designates Oxbow of Indiana as the recipient organization, will have 0.5% of their eligible purchases come to us. Just click on this link to help us out: http://smile.amazon.com/ch/31-1390071.
............................................
Click on the Image Below for a Local Map of the Oxbow
Please email comments and suggestions to Kani Meyer at kaniau@yahoo.com

Programs
Tuesday, July 11, 2017, 7:30 PM
Tom Borgman — Missing pieces of the habitat puzzle
Tom Borgman is Natural Resource Manager for Great Parks, Hamilton County OH and has worked for Great Parks for 31 years. Great Parks of Hamilton County protects over 17,000 acres. Some of the natural areas need to be restored to become quality habitat for wildlife. We will explore ways Great Parks restores the wetlands, forests and prairies to provide a better place for wildlife to live and park visitors to enjoy. Tom is also responsible for controlling invasive species and habitat restoration in the park district. Tom has been part of the Ohio Invasive Plants Council and Taking Root since their inception and is also active in other local conservation organizations.
.
Field Trips
Botanical Walk
Saturday, July 15, 2017, 10:00 am
Meet in the upper Oxbow parking lot at the main entrance
Leader: Denis Conover, (513) 513-641-3651, conovedg@hotmail.com
Our leader for this Oxbow walk will be long time Oxbow Inc. advocate Denis Conover. Denis is an Oxbow Inc. board member, a UC professor, and skilled botanist and naturalist. It should be no surprise then that this field trip will focus on the diverse plants found in the Oxbow area. Denis is a well rounded naturalist with many interests in nature and will not neglect noting the birds and other wildlife we are sure to see during the walk.
Denis certainly knows the plants in the Oxbow area as he has conducted vascular plant surveys in the Oxbow since 1997 and to date has identified over 400 species in the Oxbow proper. Breeding bird activity will be at peak on this date also. So why not come out and join Denis for what should be a pleasant summer morning walk in the Oxbow.
While the walking will mostly be slow and over flat terrain, Denis says that participants should be prepared for a lot of walking and suggests wearing long pants and boots for walking in tall grass and possibly mud (it is the Oxbow after all). June can be hot, so you might also consider bringing sunscreen and water to insure a comfortable trip. If you have any questions feel free to contact Denis.