Fall Clean-Up in the Oxbow
Please join us for our fall cleaning in the Oxbow. We will pick up trash and/or attack invasives.
October 29, 2016
9am-noon
Pizza afterwards!!!!!
......................................................
Get your very own Oxbow T-SHirt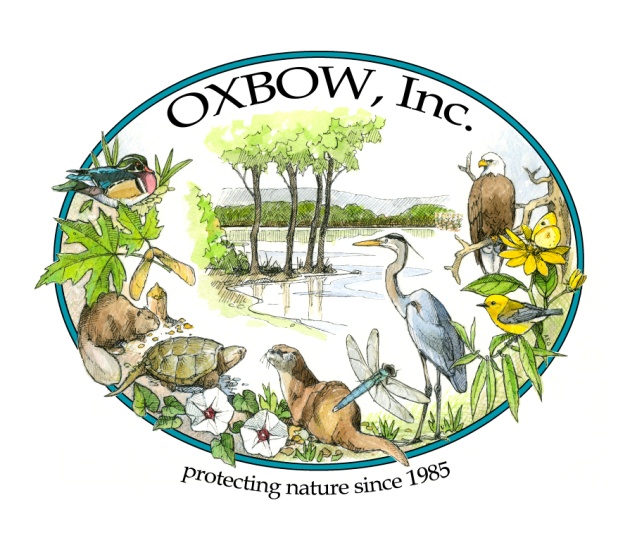 ......................................................
AmazonSmile
Oxbow has signed up with AmazonSmile. Anyone who uses it, and designates Oxbow of Indiana as the recipient organization, will have 0.5% of their eligible purchases come to us. Just click on this link to help us out: http://smile.amazon.com/ch/31-1390071.
Special, Special!!!

When you #StartWithaSmile on #PrimeDay, July 12, Amazon donates to Oxbow of Indiana. Shop for great deals at http://smile.amazon.com/gp/charity/homepage.html?orig=%2Fgp%2Fbrowse.html%3Fnode%3D11448061011&ein=31-1390071

...............................
Click on the Image Below for a Local Map of the Oxbow
Please email comments and suggestions to Kani Meyer at kaniau@yahoo.com

PROGRAMS
Tuesday, August 9, 7:30pm
Oxbow, Inc. Office
301 Walnut ST., Lawrenceburg, IN
Dr Wayne Wauligman will report on "The Breeding Birds of the Oxbow Area and Southwestern Ohio." Wayne has photos and information on the changes occurring with breeding birds, especially with range expansion or shifts.
Field Trips
General Nature Diversity
Sunday, July 24, 2016, 8:00 a.m.
Where: Meet in the upper Oxbow parking lot at the main entrance to the Oxbow.
Leader: Joe Bens, (513) 353-4229, joebens@live.com
The theme of this trip will be a general nature walk. Join skilled naturalist Joe Bens for what will prove to be a very interesting summer morning visit into the Oxbow. Joe, an expert birder, also has a great knowledge of plants, butterflies and other wildlife and is the perfect guide for a general nature trip.
Many breeding birds will still be around on this date but they can become less conspicuous in the late summer. July also marks the beginning of shorebird migration in the Oxbow area and by this date, while not at peak, some can be expected. Heron and egret numbers will begin building up around this time and it is a good time of the year to find one of the rarer species such as Little Blue Heron or Snowy Egret. Joe has a great interest in butterflies and many of those should be seen and identified. Joe will also point out some of the interesting flora found in the Oxbow. Joe expects to visit a couple of spots in the Oxbow proper and then move up to Lost Bridge to see what we can find along the Great Miami River and nearby ponds.
Temperatures can soar at this time of year and by 11:00 AM we can expect it will be quite hot. Because of this the trip will probably end around this time. Since this is the middle of summer, Joe suggests bringing sunscreen, insect repellant and water to make your visit more comfortable. Feel free to contact Joe if you have any questions.