Fall Clean-Up in the Oxbow
Please join us for our fall cleaning in the Oxbow. We will pick up trash and/or attack invasives.
October 29, 2016
9am-noon
Pizza afterwards!!!!!
......................................................
Get your very own Oxbow T-SHirt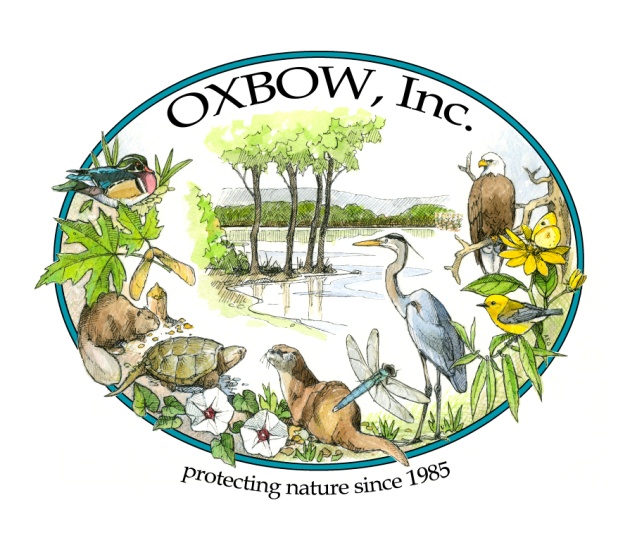 ......................................................
AmazonSmile
Oxbow has signed up with AmazonSmile. Anyone who uses it, and designates Oxbow of Indiana as the recipient organization, will have 0.5% of their eligible purchases come to us. Just click on this link to help us out: http://smile.amazon.com/ch/31-1390071.
......................................................
Click on the Image Below for a Local Map of the Oxbow
Please email comments and suggestions to Kani Meyer at kaniau@yahoo.com

PROGRAMS
Tuesday, June 14 , 7:30pm
Oxbow, Inc. Office
301 Walnut ST., Lawrenceburg, IN
Dr. David Nash
Our Vital and Vulnerable Groundwater
The Great Miami Buried Valley Aquifer System (GMBVAS), a sole source aquifer for most of the nearly two million residents in the Great Miami watershed, is a unique, vital, and vulnerable natural resource. Although water quality of both the river and aquifer has improved dramatically since passage of the 1972 Clean Water Act, land use can potentially compromise water quality. There are currently more than twelve Superfund Sites on USEPA's National Priority List within the Great Miami Watershed, most directly overlying the GMBVAS. The University of Cincinnati is proposing to build a GMBVAS observatory to monitor ground-water flow, to provide research and act as an educational resource. Dr. Nash is a groundwater geologist and geomorphologist who recently retired from U.C.'s Geology Department where he taught for over 35 years.
Field Trips
Sunday, June 19, 2016, 9:00 am
Meet in the upper Oxbow parking lot at the main entrance
Co-Leader: Denis Conover, (513) 513-641-3651, conovedg@hotmail.com
Co-Leader: Jack Stenger, (513) 503-3389, jackstenger@gnail.com
The focus of this field trip will be two fold; the plants and the breeding birds of the Oxbow. This field trip will be conducted as a joint event with the Cincinnati Chapter of the Audubon Society. Come out and join our trip leaders Dr. Denis Conover and Jack Stenger for what should be a pleasant morning walk in the Oxbow. Denis Conover is an Oxbow Inc. board member, a UC professor, and skilled botanist and naturalist. Denis has conducted vascular plant surveys in the Oxbow since 1997 and to date has identified over 400 species in the Oxbow proper. Jack Stenger is a skilled birder and life-long Oxbow Inc. advocate. He is a Ph.D. student at UC and is also the current Vice-President of the Cincinnati Bird Club. Between the two of them they will have the plants and birds covered.