Spring Clean-Up in the Oxbow
Please join us for our annual spring cleaning in the Oxbow. We will pick up trash and/or pull garlic mustard.
April 23, 2016
9am-noon
Pizza afterwards!!!!!
......................................................
Get your very own Oxbow T-SHirt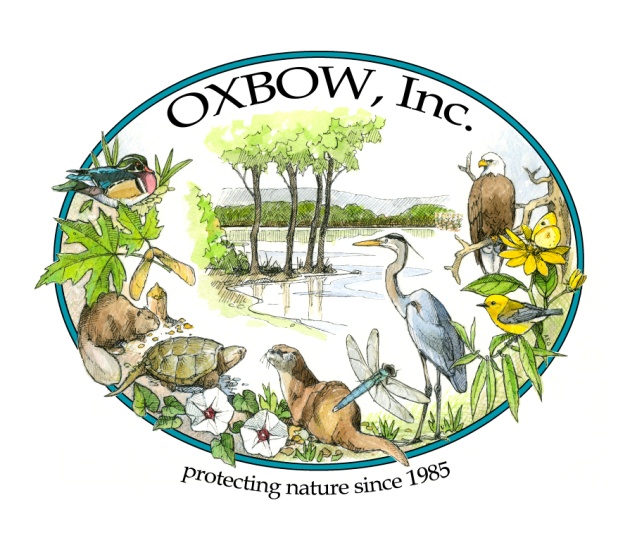 ......................................................
AmazonSmile
Oxbow has signed up with AmazonSmile. Anyone who uses it, and designates Oxbow of Indiana as the recipient organization, will have 0.5% of their eligible purchases come to us. Just click on this link to help us out: http://smile.amazon.com/ch/31-1390071.
......................................................
Click on the Image Below for a Local Map of the Oxbow
Please email comments and suggestions to Kani Meyer at kaniau@yahoo.com

PROGRAMS
Tuesday, February 9, 7:30pm
Oxbow, Inc. Office
301 Walnut ST., Lawrenceburg, IN
Fascinating Flying Squirrels. John Klein spent his 33-year career as Land Manager of the Hamilton County Parks. Now, five years into retirement, he enjoys teaching others about the wonders of nature through hiking and kayaking. He has been observing and studying flying squirrels for the past two years and has become fascinated with these friendly yet rarely seen animals.
FIELD TRIPS
Early Spring Waterfowl Migration
Date: Saturday, February 27, 2016
Time: 8:00 A.M.
Meet: In the upper Oxbow parking lot at the main entrance to the Oxbow
Leader: Joe Bens, (513) 353-4229, joebens@live.com
Early spring waterfowl migration should be in full swing by this date and they will be the primary focus of this trip. However a diverse number of other early spring migrants and seasonal species will also be seen. It's also a great time of year to find Bald Eagles and other raptors in the Oxbow. Our trip leader, Joe Bens, is one of Oxbow Inc's original member and he is an expert birder. He has great bird finding abilities so expectations are high. Joe plans to move around to several spots in the Oxbow area depending on accessibility and water conditions as flooding is the norm in the Oxbow at this season.
So why not shake off your cabin fever and join Joe for what should be a productive morning of wildlife viewing in the Oxbow. Aside from seeing waterfowl and other birds, mud and cold weather is also guaranteed, so dress appropriately. This is a morning trip that should end before noon. Rest rooms are available nearby. Feel free to contact Joe if you have any questions regarding the trip.